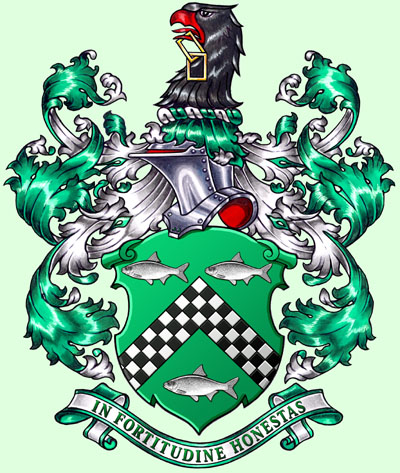 Welcome to my Site. My name is Cory Lyman McHenry. I was the Secretary of the American Heraldry Society in the years 2004 and 2005. I am a member of the Association for the Advancement of Heraldry, and a member of the Association of Amateur Heralds. Please E-Mail me if you have any questions about these Societies or Organizations. Please if your Last name is McHenry please note that these arms are not yours, they are Mine and for my decendants. Just because your last name is McHenry doesnt make you a legal bearer of a Heraldic Device, esp. mine. Thank you!
The graphic of achievement of arms above a representation or an emblazoning of my Coat of Arms. It was designed by Melvyn Jeremiah and myself. As you can see this graphic was beautifuly painted by Commander Valery Yegorov, Saint Andrew Principal Herald Master of the Russian College of Heraldry. The Russian College of Heraldry Can Be Found Here!!! (CHR) He is also the Vice President of the Russian Heraldry Society (RHS).
The herald for the arms commission was none other than Melvyn Jeremiah Esq. CB JP the Secretary of the Association of Amateur Heralds or AAH, This is a site of designs that I and Geoff Kingman-Sugars... please enjoy, and make yourself at home. I do warn you however, ... downloading any picture from this site could infringe on the rights, or copyright of any person/s that register these designs with any of the authentic Heraldic Registration Authorities. The graphics displayed here are Copyright and permission must be obtained from the owner of the graphic before any use is made of them.
Blazon- Vert a Chevron chequy Argent and Sable between three Roach naiant Argent.

Crest- On a wreath of the colours an Eagle's Head erased Sable beaked Gules in its beak a Pendant of double link of square Chain Or.

Motto- In Courage is Honour or "En Fortitudine Honestas"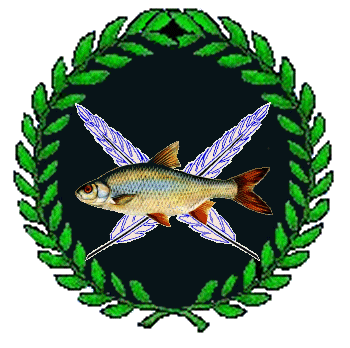 Badge- On a background Sable in front of two Feathers Argent saltire-wise points down a Roach naiant Proper all enclosed within a Laurel Wreath closed Vert.
Symbolism- Eagle Head - Comes from the original MacEinery arms as an Eagle displayed Vert. But since I cannot PROVE that I am descended from this line, mainly because of adoptions within the family I have no right to bear a green eagle displayed on my arms, so I decided that an eagle of any colour will work well for a crest, and black was chosen to correspond to the arms.
Roach - Mother's surname has arms, but probably not entitled to my mother, so I adopted the Roach and displayed them in a different way as to not be confused with the Roche armigers.

Double Link of Chain - Double Links of chain at times signify an adoption... so I decided it was only honest to include them. But since it is in the crest it means nothing, but it does have other meanings for me.
Chequered Chevron - A Chevron is often used as a sign of protection and I have a tendency to protect myself and those I love, at times maybe a bit too much. A standard chevron would have been boring, so I chose to have a chequered chevron with Argent as the central colour because the silver would bring out the Roach and not draw the eye away from the shield to the crest.